Oasis deliver success while floating 'In the Air' - could you be part of the team next year? Catch a look at our video showing their magnificent Christmas-themed float
The Frome-based Oasis Carnival Club has completed its latest series of events and can reflect on a successful 2022.
The group builds a float each year to take part in carnivals in Somerset and some surrounding counties. It consist of a large illuminated entry depicting the chosen theme of the year.
This year's theme was 'In the Air' and it proved popular.
The group took third place in the Wells Open Tableau and achieved the same recognition in the Glastonbury event.
In the Somerset County Carnival Oasis were awarded fourth Place in Tableau Class.
Thoughts are already turning to next year.
Group member Dick Goodenough says: "We are now planning for 2023 if any body is interested in joining our group visit our website www.oasiscarnival.co.uk were you find out about what the club does to raise fund, build and socialise and also contact details for more info and for joining."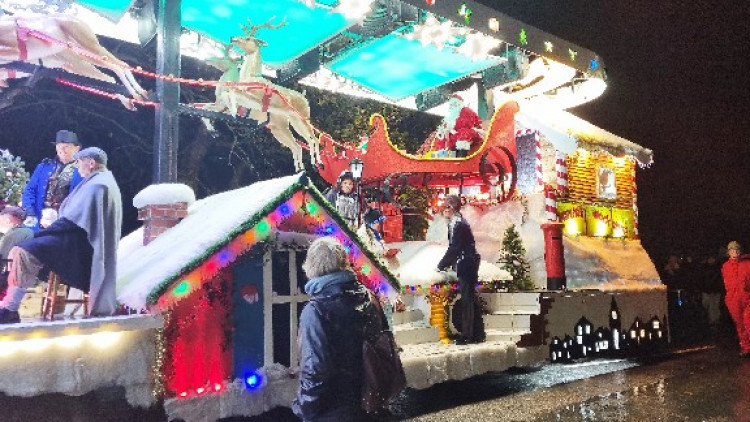 The club is looking for members with a wide range of skills and abilities from carpentry to administration.
A club statement says: "One aspect of the club is that it gives the opportunity to learn or pass on skills to some of which are not apparent at first sight, i.e. vehicle maintenance, administration, legal aspect (insurance, police and traffic laws) painting, dress making, design and many more to numerous to list here
"The benefits the club gives back to the community are great in that it gives young and old to meet and understand each others outlook also the chance to learn new skills which can be transferred to work home and social life
"Modern times are making life more intense for carnival Clubs like ourselves and the need for new members is more intense as is the need to raise fund to keep the club running, laws have changed dramatically in the last two or three decades and has increased running cost 10 to 15 fold so to this end we need to increase our membership and funding for us to survive."