Frome and the Weymouth Parking Challenge group : Residents say they want a fair solution to town parking problems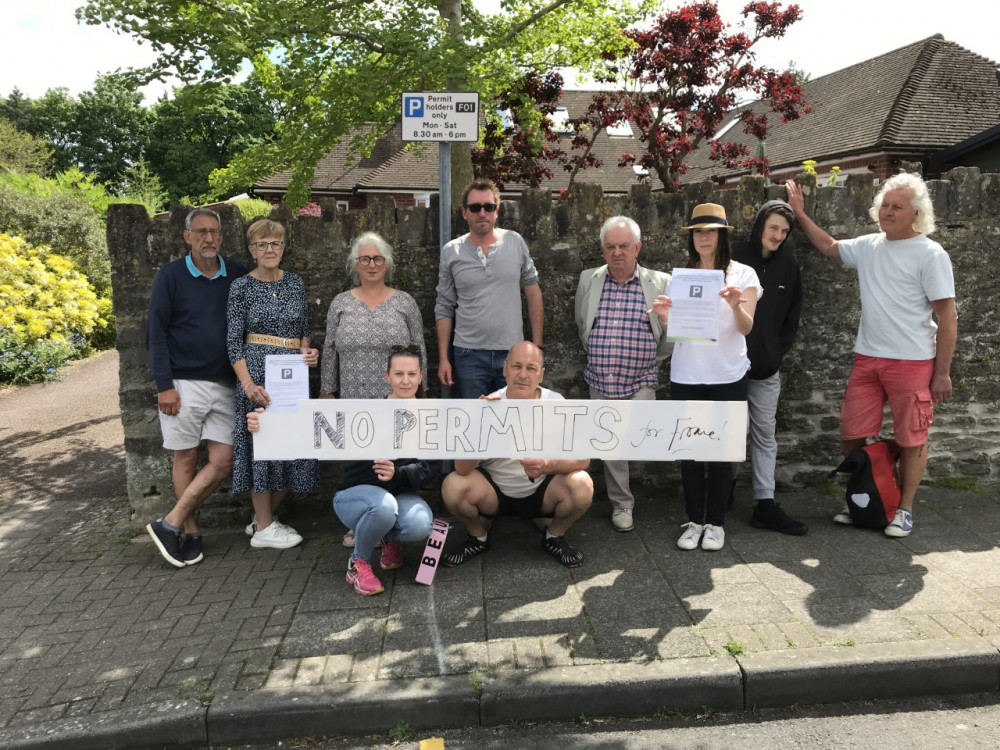 Parking permits row in central Frome - no stopping us
The Weymouth Road Parking Permit Challenge Group say they are not giving up their protest against parking restrictions imposed on the key Frome street.
They write:
After years of poor town planning decisions, leading to available parking in the town centre being gradually eroded, and after years of being ignored by councillors, residents have had enough. Objectors from roads surrounding Weymouth Road's proposed residents parking permits and parking meter scheme, who will be negatively impacted, have now joined forces.
The reason for introducing the scheme was given as for safety, however, it seems obvious that a 20MPH speed limit, speed bumps and some yellow lines would have addressed this issue. As the majority of residents on Weymouth Road already have off-road parking, it makes no sense to offer them further on-road parking. As well as having a detrimental effect on surrounding roads it will also restrict access for many park users.
Although former councillors have been parroting the statement that a full consultation was carried out, this is not true. The initial parking permit consultation didn't include park users nor surrounding roads including those in the older part of town, closer to the centre.
One of the many comments on the petition site from one of those overlooked says: "I live on Catherine Street, I'm utterly shocked that after 20 years of waiting we still have no parking possibility near our home and now they are taking Weymouth road away from us…where will we park next?"
Another comment said: "As a resident on High Street, I am very concerned this will drive more cars to park on our road, which already doesn't have enough spaces for residents. Also, we get many shop owners commuting into Frome and parking in this area, rather than paying to use the car parks."
A concerned Park user commented: "It will restrict access to the park for those that need to use their cars to get there, eg pushchair, wheelchair, disabled."
Those roads that were consulted believed that they were being consulted on a parking area, which apart from a few residents on Weymouth Road, was overwhelmingly rejected.
At a Frome Town Council Matters meeting last year, a resident from Somerset Road said: "That while there had been years of residents being asked their opinion, it was for an integrated scheme for parking controls across several streets, not just Weymouth Road."
However, the scheme seems to have been pushed forward and the street furniture has already been installed on Weymouth Road. It was due to start on the 1st of April but has currently still not gone live. Again, concerned residents have not been informed, if and when this will happen, as being able to park close-by is vital for many people's ability to work.
Another resident who wasn't consulted commented: "I live on Catherine Street, private owned flat. Parking is awful on our street and around the area. I use my car for my role as a visiting nurse in a GP practice and my husband needs his van for his work. Taking 4 spaces away for the social housing that are now predominantly unused has been caused even more difficulty for private residents."
Double yellow lines have also now been placed along the bottom of Weymouth Road taking away the last few parking spaces available. This was not even proposed in the council's original scheme therefore we believe they should also be contested and removed.
The campaign petition has now reached 363 signatures, and has been presented to Somerset County council. Their initial response has been to offer some Catherine Street residents permits on Weymouth Road. However, this would only apply to a few longstanding residents and any new residents will be offered nothing. This piece-meal afterthought for a minority of those who will be affected does not offer a fair solutionfor the town centre parking needs as a whole.
Our new Unitary Councillors, who are now in charge of both on-road parking and car parks, are well aware of the problems that this ill-conceived scheme will cause. If you would like to join our campaign for a fairer solution to Frome's Parking problems, please email our new Unitary Councillors:
[email protected], [email protected],
[email protected], [email protected],
[email protected], [email protected]
Sign the petition:https://chng.it/SgJGWQKNjR,
Please also email [email protected] if you are affected and would be like to support our campaign!