Gas-free development close to Frome is 75% sold as consumers seek energy efficient homes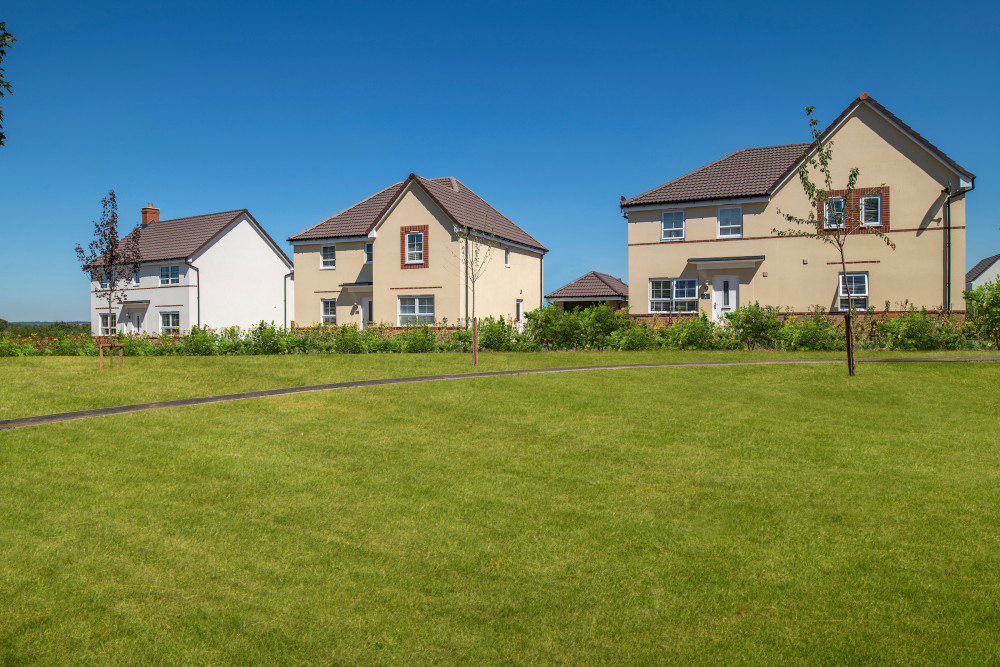 Three quarters of the homes here are already sold
The appetite for energy efficient homes that deliver cost saving benefits to owners is being cited as one of the main reasons for a spike in sales at a new gas-free housing development in Frome.
Research suggests the energy rating on homes is becoming a more important part of the housing market and buyers are more conscious of the green features of buildings1, a trend that's mirrored at the new Delamare Park development – the first Barratt development in the country with no gas supply or connection on-site – where 75% of homes are now sold.
According to a study by Barratt Developments, more than three quarters (76%) of purchasers want cost efficient homes that save money, with 70% wanting to reduce emissions.
All 82 properties at Barratt Homes' Delamare Park development are fitted with air source heat pumps as standard - a clean, highly efficient and emissions-free way to meet a home's heating and hot water requirements. Unlike traditional boilers which are the largest contributor to household carbon emissions2, air source heat pumps require only water and electric connection. They absorb heat from the outside air and can operate when outside temperatures are as low as -20°C.
Louise Ware, sales director at Barratt David Wilson Homes South West, said: "We're finding there's an increasing appetite for energy efficient homes at a time that consumers strive to become even more planet friendly combined with the cost of living that's also a concern. To have only 25% of properties remaining after launching less than a year ago is testament to how keen consumers are to reduce their carbon footprint and save money.
"All homes at the development feature air source heat pumps as standard. The transition to low carbon heating in an older property can cost thousands of pounds so residents can quickly reap the green and financial benefits with a move to Delamare Park.
"The launch of Barratt's first gas-free development follows calls for more properties to get off gas and utilise air source heat pumps as a cheaper and more sustainable alternative to fossil fuels and the success of Delamare Park will no doubt pave the way for future developments by us, not to mention the wider industry."
The energy price crisis has meant that buyers are becoming increasingly enthusiastic about energy-efficient new homes that meet current building standards3. As a result of modern building techniques and the materials used during construction, new build properties are more energy efficient compared to an older property - around 99% of all Barratt homes are EPC A or B rated which can unlock energy savings of 69%, helping homeowners save almost £1,500 on bills every year, while water consumption can be reduced by up to 26% per day per person.
Ben Bolland is just one resident who was drawn to Delamare Park's green credentials. He said: "While the location initially led me to the development, the fact that it's a gas free site was a massive selling point. I think it's important to be forward and future thinking not to mention how financially freeing it is knowing that while I live here I'll never have to pay a gas bill again – a huge bonus given how much mine has increased over recent months."
The Civil Servant who is also Head of Girls Football at Frome Town United, has recently moved into a three-bedroom semi-detached home, after renting a three-bedroom terrace nearby. He added: "Moving from a terrace into a larger semi-detached means I'll have plenty of space when my two daughters come to visit plus, as I work from home a lot, I'll have room to separate my work and private life. I also now have a driveway which is such a luxury after being without one for so long!
"It's a lovely quiet location but being so close to the A361 means I can be in Frome in just a few minutes. I also do lots of cycling so being on the edge of the Mendips is ideal. Overall, I'm looking forward to a greener, cheaper and more enjoyable way of life and it's all thanks to Delamare Park."
Designed specifically for UK homes, the ultra-quiet Ecodan air source heat pumps installed at Delamare Park have a ErP (Energy Related Products Directive) A++ performance rating and they can be controlled via a smartphone, tablet or computer.
Moves by the government will make UK homes more energy efficient as part of national plans to reach net zero carbon emissions by 2050.
Named after Sir John de la Mare, a knight in the court of King Edward III who built nearby Nunney Castle in the 14th century, Delamare Park includes a range of two, three, four and five-bedroom properties. The development includes electric car charging for every home, more than three acres of open space as well as measures to support local wildlife including the planting of 178 new trees, the creation of hedgehog highways and a five-metre ecological boundary, which will be preserved for nature.
Nunney is located just off the A361 in between Frome and Shepton Mallet, in the Somerset countryside. For more information visit https://www.barratthomes.co.uk/new-homes/dev-001040-delamare-park/