Mells First School celebrates latest OFSTED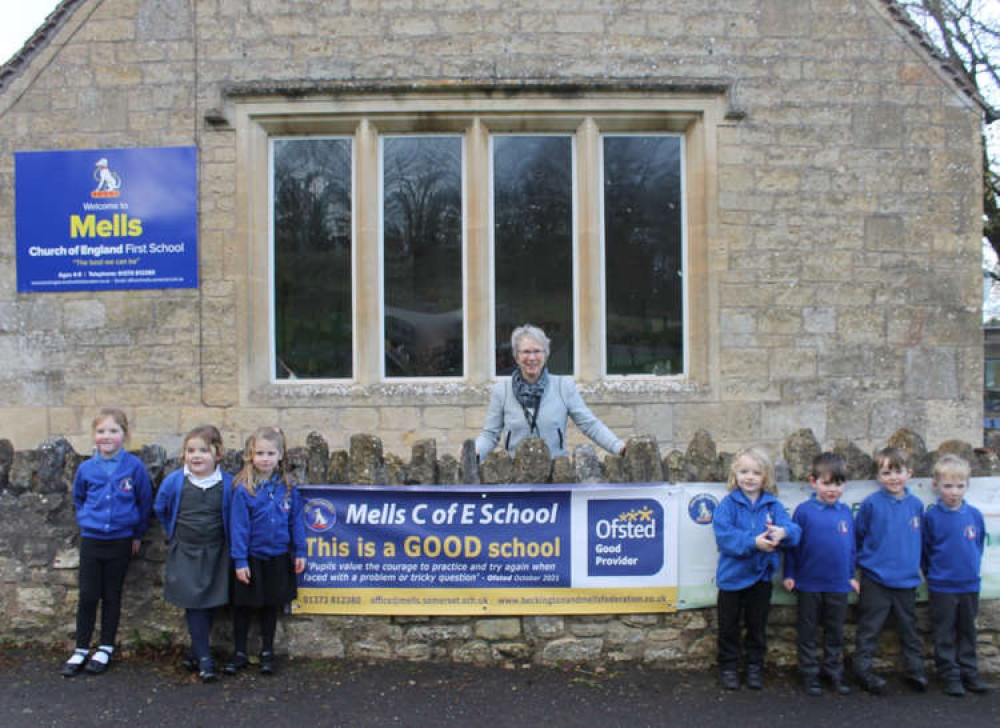 Claire Chantler, Executive Headteacher, celebrates Mells CofE First School's recent Ofsted result with pupils from this year's reception class
Pupils and staff at Mells Church of England First School have been celebrating after receiving a glowing report from their recent Ofsted inspection, which saw them retain their 'Good' status under a tougher Ofsted framework, whilst also recognising that the school encourages pupils to 'dream big'.
The introduction of a new Education Inspection Framework in 2019 has overhauled the inspection regime, meaning that schools now need to adhere to a stricter set of guidelines. This has resulted in many schools across the UK being downgraded now that inspections have resumed after the pandemic. In awarding the 'Good' rating, Ofsted reported that pupils are confident and happy at Mells School, and that they have a positive attitude to learning. Pupils also know about different cultures and religions and have a strong sense of right and wrong. Leaders organise a wide range of meaningful opportunities to promote pupils' personal development, such as competing at county sporting events or playing in a brass orchestra with pupils from other schools.
Parents also agree that staff create a nurturing, safe and friendly environment for their children.
The Ofsted report goes on to say that through whole-school projects and educational visits, pupils know they can make a difference in the future and are inspired to 'dream big'.
Claire Chantler is the Executive Headteacher of the Beckington and Mells Federation. She said: "I'm elated that Ofsted recognises that our children are motivated to set themselves high goals, believe in the impossible and see the bigger picture of what they want out of life. We want our pupils to thrive through challenge, and to have fun and enjoy creating friendships along the way.
"The new Ofsted inspection framework is exceptionally rigorous, and I'm extremely proud of our school community."
According to Ofsted, 'Good' schools will provide for pupils' educational needs and prepare them well for the next stage in their lives. Under the new Framework, inspections focus less on academic and exam results and instead look more closely as how well schools develop children as a whole; encouraging them to build resilience and become better citizens.
Inspectors are also seeking a curriculum which is both varied and rich, and Beckington and Mells Federation has spent the last three years developing its own STEAM curriculum, encompassing science, technology, engineering, arts and maths, to immerse pupils in exciting topics which are cross-curricular, relevant and encourage children to look at and question the world around them.
Beckington and Mells Federation is formed of two first schools on the outskirts of Frome; Mells CofE First School and Beckington CofE First School. The two schools federated in September 2019 and share an Executive Headteacher. Mells Church of England school currently has 73 pupils on the school roll, aged between five and nine. The routine inspection took place in October 2021 and prior to that, the most recent inspection was in September 2016 when the school was also rated as 'Good'.
Open events have recently been held for children who are due to start school next September and these have been extremely popular. The closing date for school applications is the 15th January 2022. Parents with children due to start school for the first time in September 2022 are encouraged to call the school on 01373 830438 if they missed these open events or have any questions.