Mendip is the first District Council in the UK to declare a 'cost of living emergency'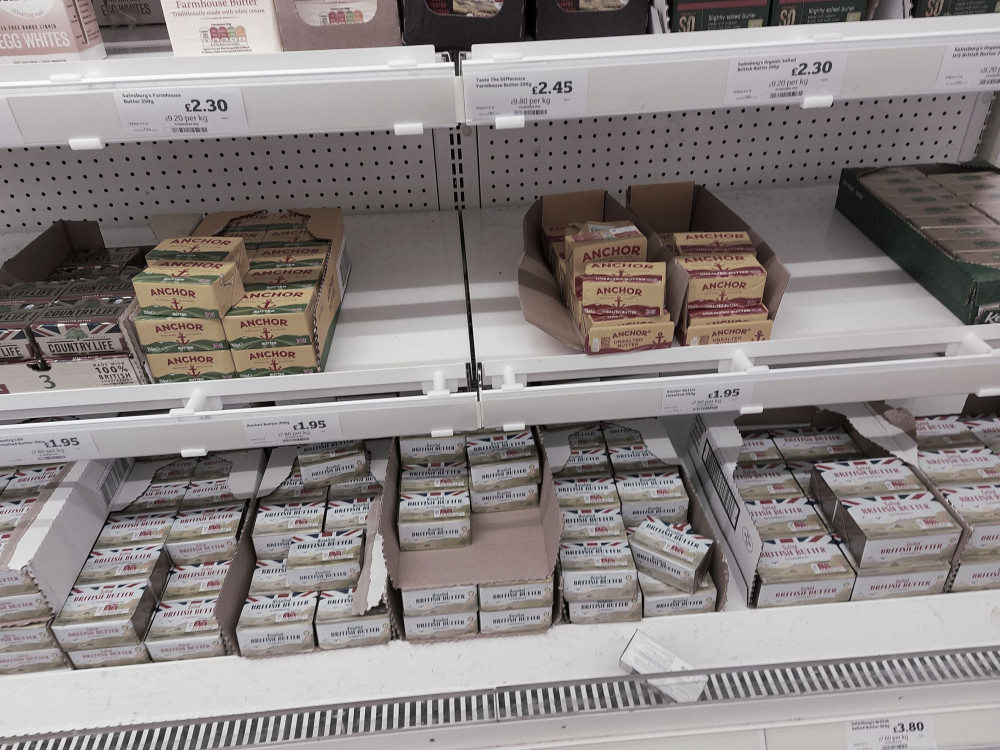 No buts - it is a crisis say Mendip Council - file photo
The economic hardship being felt by Mendip residents, communities and businesses, has prompted councillors to declare a cost of living emergency.
Mendip is the first District Council in the UK to adopt the strong stance, which is designed to acknowledge and address rural poverty due to rising food and fuel prices.
There has been a massive increase in the cost of living and its impact is being felt on working people, pensioners, and those on benefits. Councillors fear local families will be pushed even deeper below the poverty line unless drastic action is taken.
At the Annual General Meeting of the Council (23rd May 2022), members voted unanimously for a 'wake-up call to Government' and supported an unprecedented emergency motion proposed by Deputy Leader Cllr Barry O'Leary and seconded by Cllr Ros Wyke, Leader of the Council.
The Council's Chief Executive, and its top Finance Officer, have been instructed to write to the Secretary of State for Work and Pensions, Thérèse Coffey, to express Mendip's opposition to the suspension of the triple-lock on pensions.
They have also been instructed to correspond with Chancellor Rishi Sunak, to ask that he act immediately to impose a windfall tax on energy giants, to cut the standard rate of VAT to 17.5%, and to restore the Universal Credit supplement of £20 per week.
The motion also calls for an Emergency Summit to bring together organisations across Mendip such as Citizens Advice, food bank operators, charities, Trade Union representatives, Chambers of Commerce and local MPs. By working together to tackle the issue it's hoped no one in Mendip will slip through the cracks.
Cllr Barry O'Leary, Deputy Leader of Mendip District Council and Portfolio Holder for Enterprise and Finance, said: "Food prices are through the roof. There's a massive spike in demand at our food banks in Shepton, Frome and Wells. This isn't just an issue for the lowest paid, it affects the squeezed middle just as much.
"We're now living in a country where a few at the top do well, but everybody else is struggling. That is a sign of the cost of living crisis, escalating into a cost of living emergency here in Mendip."
Cllr O'Leary added: "The scale of the problem is familiar to any councillor who is out and about in the Mendip community. My inbox is full of local residents saying they are struggling and not getting enough support – it's harrowing.
"There can be no more 'wait and see'. We need to use the powers we have to take the action we can."
Leader of Mendip District Council, Cllr Ros Wyke, said: "The Ofgem energy price cap rose by £693 to £1,971 per year – that's a 54 percent increase. National Insurance contributions have risen by 13 percent in the lowest-paid workers from April 2022. Food and petrol prices have contributed to the highest levels of inflation for nearly 30 years. The continuing war in Ukraine is compounding matters.
"People are hurting. It's a complex problem, and this may be with us for some years. Above all else we must build momentum to ensure the Government listens and acts.
"Listening, leading, caring and taking action - that's what Mendip is doing. We expect this Government to follow suit."
Where to find help in Mendip
Here's what you can do if you are facing financial hardship:
Council Tax Support and the Additional Hardship Discount
If you're not yet receiving Council Tax Support, are on a low income and think you may be eligible, please contact the Council. In particular, if you're claiming Universal Credit for the first time, you may also be eligible to claim.
Check your eligibility and get help here: www.mendip.gov.uk/counciltaxsupport
Mendip residents seeking advice on financial assistance to improve their homes can visit https://www.mendip.gov.uk/financialassistance The Private Sector Housing Team are also here to help, give them a call on 0300 303 8588 or email: [email protected]
Save energy and money - take a look at Mendip's Home Energy Checklist pages: www.mendip.gov.uk/energyefficiency
Centre for Sustainable Energy (CSE) is a charity supporting people and organisations across the UK to tackle the climate emergency and end the suffering caused by cold homes. CSE's Home Energy Advice service, commissioned by the Council to provide expert help and advice to Mendip residents, helps people to reduce their bills and access benefits and grants to make their homes warmer. For advice and support visit www.cse.org.uk/advice/advice-and-support or call 0800 082 2234.
Citizen Advice is an independent national charity that provides free, confidential and impartial advice for people on a wide range of issues, including benefits, work, debt and money, consumer issues, relationships, housing, law and rights, discrimination, healthcare and education.
Call 033444 889623 to talk to us or contact us via the website here: https://www.citizensadvicemendip.org.uk/index.html
If you are experiencing feelings of distress and isolation, or are struggling to cope, The Samaritans offers support; you can speak to someone for free over the phone, in confidence, on 116 123 email [email protected], or visit the Samaritans website http://www.samaritans.org They are there 24 hours a day, 365 days a year. Samaritans are not just for moments of crisis, but for taking action to prevent the crisis.
Check out this little book of wellbeing: http://www.healthysomerset.co.uk/resources/wp-content/uploads/2019/06/Little_BookV72019FORWEB.pdf