MP escaped punishment though it is agreed he broke standards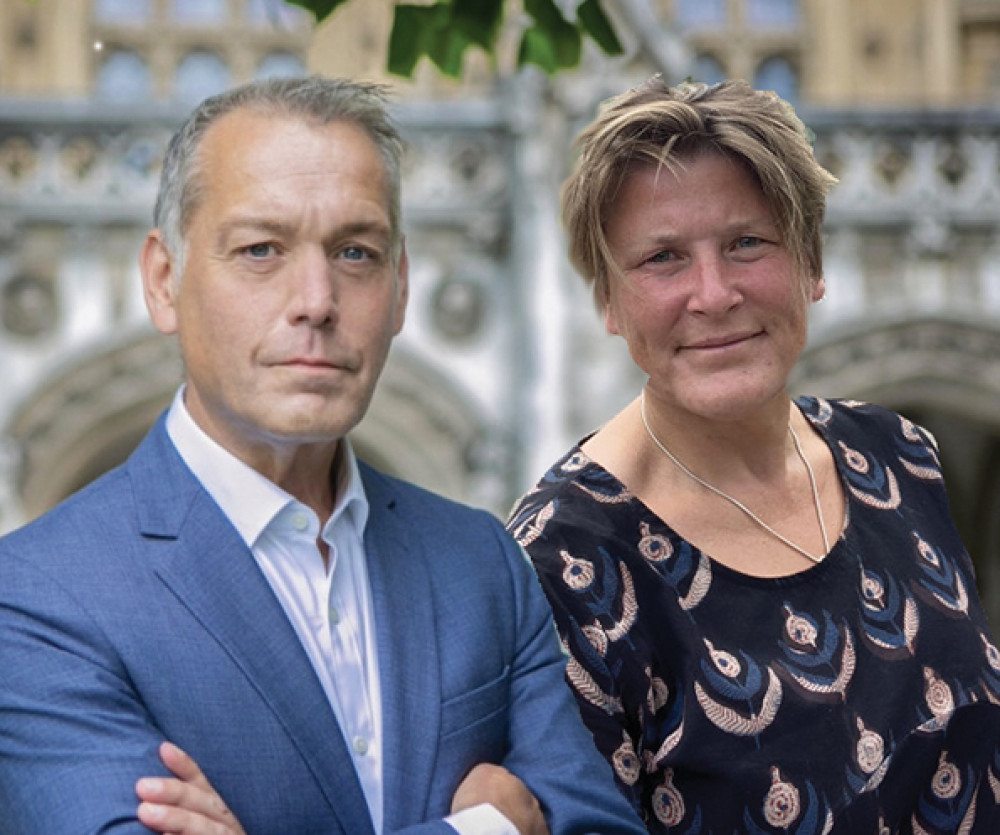 Sarah Dyke (right) is less than impressed that Frome MP David Warburton has gone unpunished for breaching parliamentary standards.
FROME MP David Warburton has escaped being formally disciplined by the parliamentary commissioner for standards who has concluded and investigation into his conduct.
Though it has been acknowledged that the Conservative MP broke the MPs' code of conduct twice Mr Warburton, who had the Conservative whip suspended earlier this year over separate claims of sexual harassment and drug use - which he denies and are still being investigated - will not face any sanction, having apologised
Today's decision (Monday, 21 November) announced by the parliamentary commissioner for standards, Kathryn Stone, acknowledged Mr Warburton breached rules on declaring interests after being lent £150,000 by a businessman for a rental property and then writing to a financial watchdog to praise the same person.
Frome Nub news reported on the allegations in June this year.
It found that he did not breach rules on paid advocacy in writing to the Financial Conduct Authority (FCA) on behalf of Roman Joukovski, as he did not seek any action on behalf of the businessman.
Mr Warburton will not face any sanction, having apologised and agreed to amend his register of interests.
The investigation found that Mr Joukovski, a financial adviser who specialises in offshore tax advice, had lent Warburton £150,000 in 2018 via Castlebrook Associates, a Seychelles-registered company.
Mr Warburton told the commissioner the loan was to help pay for a property that he and his wife wanted to buy to let. After they were unable to get a normal loan, Mr Warburton told the inquiry, Mr Joukovski said he could provide "a commercial loan from his business, as he was a good friend and I was stuck".
The inquiry heard that Mr Warburton said he did not register the loan because it was "entirely unconnected with either my role as an MP or any parliamentary activities".
The commissioner for standards disagreed, saying the MP should have done so "because an onlooker might have reasonably thought that at the time the loan was provided it had the potential to influence Mr Warburton's words or actions as a member", meaning he had breached the section of the MPs' code of conduct about registering interests.
Mr Warburton then wrote to the FCA in March 2021 about Mr Joukovski on parliamentary stationery, telling the watchdog that he was sending "a reference on behalf of Roman Joukovski", adding that "in my judgment he is extremely capable and an honest and straightforward person whom I trust". This was also found to be a breach of standards.
Today's decision prompted the following response from Sarah Dyke, the Liberal Democrat parliamentary candidate for Somerton and Frome.
She said: "David Warburton is still busy fighting for his own political survival rather than for the people of Somerton and Frome. This ruling confirms he breached parliamentary rules, while he is still under a separate investigation after serious and alarming allegations about his behaviour.
"Local families and pensioners are paying the price for the Conservative Government's chaos and incompetence, with soaring energy bills, food prices and mortgage payments. But David Warburton hasn't spoken in Parliament on behalf of his constituents in almost a year, and hasn't voted since March.
"Local people deserve better than an MP who is missing in action. They deserve a local champion who will stand up for them and fight for a fair deal."