A taste of Catalonia in Frome - a gastronomical celebration with a rare vegetable to excite foodies in the town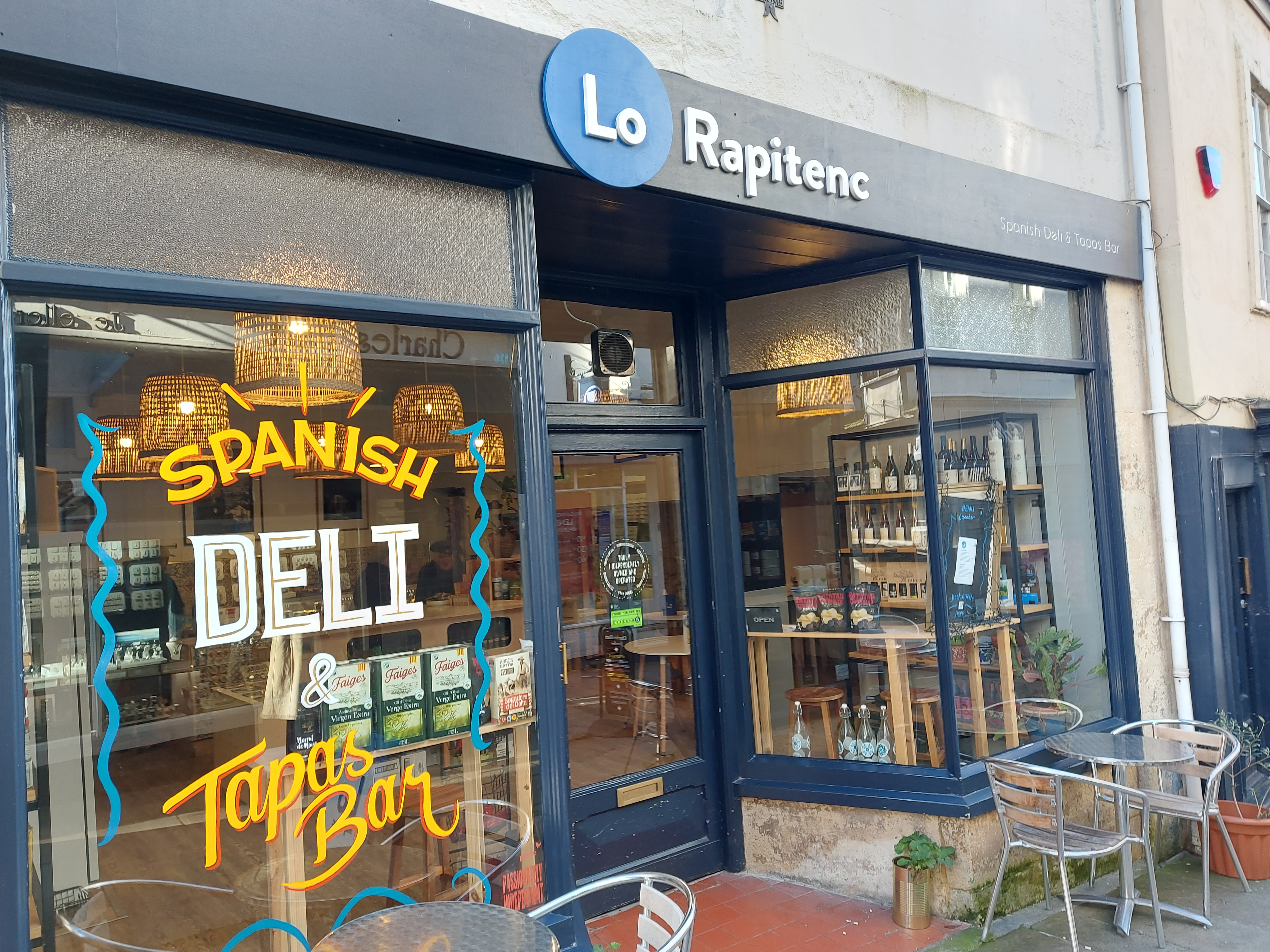 A little taste of sunshine on Cheap Street in Frome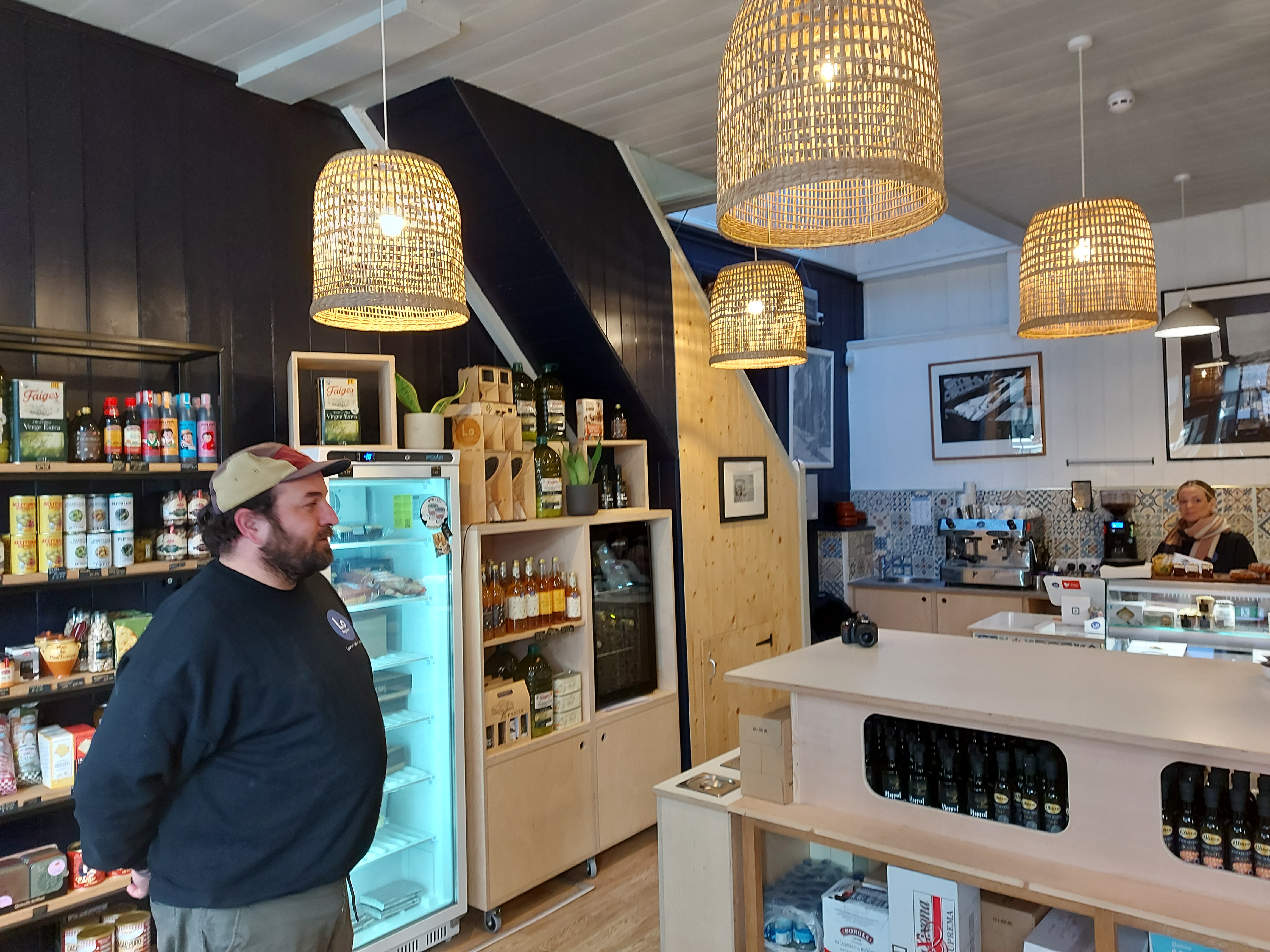 You can eat in, or simply fill your shopping bags with Spanish delights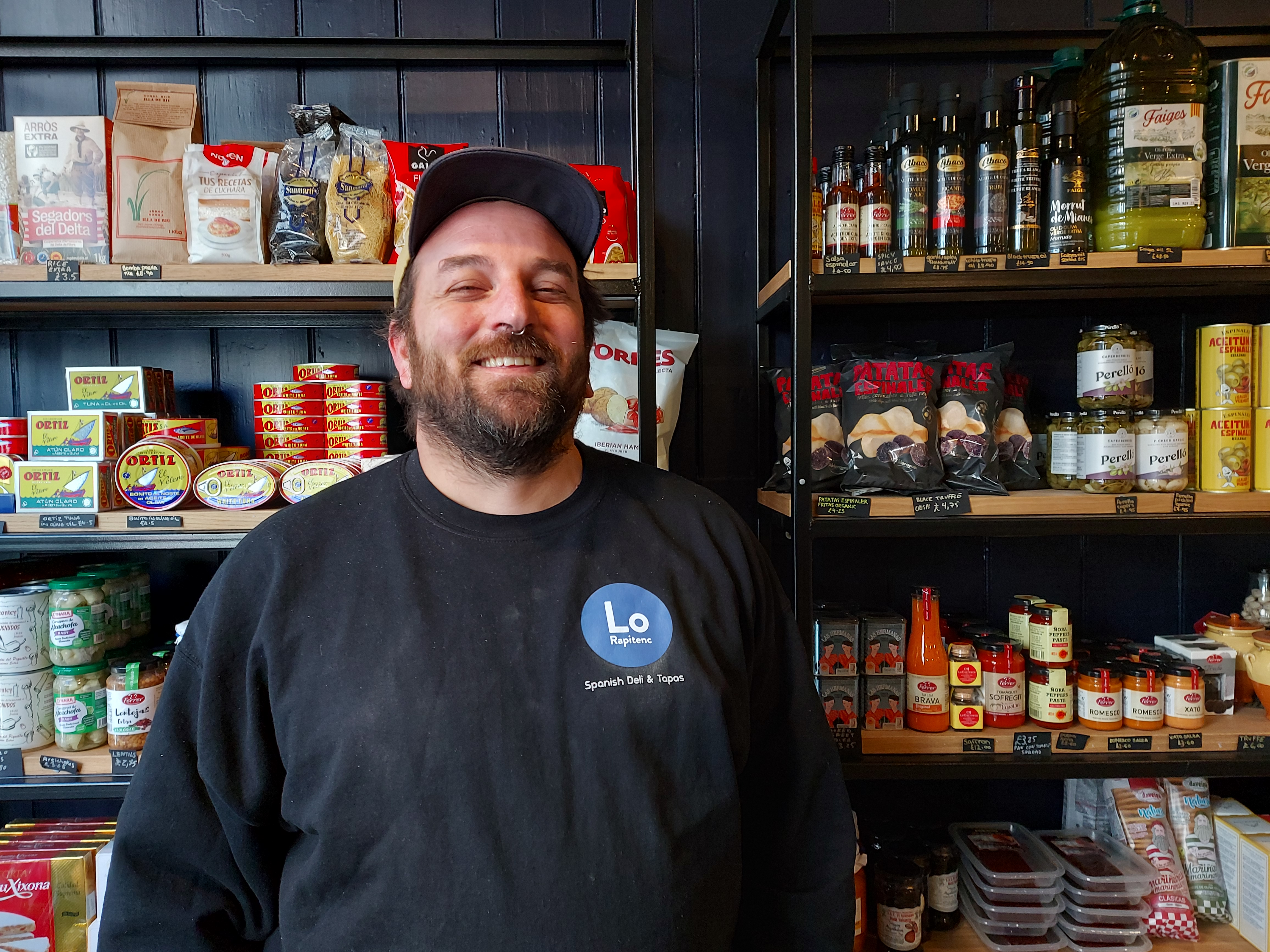 Marc wants more than anything else for people to enjoy the food
The Spanish deli and tapas bar Lo Rapintec has a new chef, a new menu (with the old favourites too), and is preparing for a fiesta the likes of which Nub News is pretty sure no one in Frome has ever experienced before.
The reason is that the party planned for the end of February will celebrate a unique vegetable, grown only in the smallest quarter of Catalonia.
Lo Rapintec at 21-22 Cheap Street, Frome has only been open just over a year, but already has a loyal following, drawn by the owner's passion for hyper local food and tastes. While it was never his plan to have a restaurant, serving small plates to a small number of dine-in tables, has been a success and now those dishes are served up at events and parties across the town.
Passionate about food owner Marc moved from Bristol to Frome seven years ago after falling in love with the town. The father of two is also full of energy for his other passions, his music which you can hear on Frome FM, his food of course and, when he has time, playing water polo.
A history of all things from home
Marc moved to England from his home down, La Rapita, near Barcelona, which lends it name to the Cheap Street address. He has a colourful background in fishing, community ferries and when he has time, being a part time DJ.
Lo Rapintec opened in October 2021 and serves and sells food, along with wine and spirits from another hyper local business, Diatomist.
Thirty seven year old Marc 37 (the Catalan version of Mark) Brunet (from his dad) Pascal (the surname from his mum) comes from a food family, Marc's grandad Mingo was a cook, fisherman and ran his own tapas bar, so he has a food heritage.
Nub News went to visit the place of satisfying Spanish food made with love
Marc and his family moved from St Paul's after falling in love with Frome.
" We wanted to somewhere a little quieter, " he explained, " We came for a wedding, and thought this is nice, and then we decided to come back on a Sunday because we thought it would be quiet - little did we know, it was the Independent ! I love it here we don't regret anything about coming to Frome but it would be nice if it could be as vibrant as that time more of the time. It would be wonderful to turn Frome into a real destination town, there are so many wonderful people doing amazing things in terms of food and art. It would be great to make that happen.
" I always liked food but before it was more of a hobby. Then around ten years ago my wife and I started to think how nice it would be to have somewhere to share my passion for food. To show local people the tastes I grew up with. My plan was just to have a small deli, but this place came along in Cheap Street. I hope to be here as long as the previous owners. who were here as a successful business for 14 years. "
The taste of Catalan - and an education
He talked to Nub News about that love of food - and company, explaining: " In England there is a misunderstanding about what tapas actually symbolises - that it just means a small plate. Tapas CAN be what ever you want it to be, but the main thing is that it is about sharing.
" Our menu has dishes from my home town, which are still being cooked the same way, Spanish classics, like the croquetas, a breaded béchamel ball, with different favours such as those made with a traditional ham. But really you can mix up the tastes in them and chefs they can do their 'magic' with other flavours. But the key thing is that food is meant to be shared."
The restaurant has just hired a new chef (the existing chef is about to go on maternity leave) but the favourites, including pork shoulder, cod cooked Catalan style remain. The selection HERE plus daily specials.
"Spanish food is all about sharing ", explains Marc. " And it comes when it is ready . So I tell my customers, when the food arrives at the table start eating, don't do this English thing of waiting. Some dishes take longer to cook.. so start eating enjoy and love our food."
If you want too it can be accompanied by drinks from Diatomist, a wine or sherry imported from a small corner of Spain.
" They are a family business importing something special, and it is a learning experience for me, " says Marc. " We have had a very successful night with them explaining about sherry from their cellars - myself and the customers all had an education."
Tough for businesses right now
Several local businesses have closed up shop and Cheap Street has empty stores, so how hard is it right now as a small business ?
" It is hard, but the local council they are really great and really supportive of us and we are appreciative, but they need to push more for Frome to become a destination. The Frome Independent is great, but Frome could be so much more. All my costs are expensive, and that is painful, so any help with events and promotion is so important."
Hence the 'crazy' Catalonian party
Marc is planning more sherry tasting events and of course will be running a special Valentines' evening - with only 10 or 12 tables this might be booked out fast - and then at the end of February a very special event - a unique event - Calçotada a gastronomical celebration of a humble vegetable.
The vegetable is best described as somewhere between a spring onion and a baby leek, only grown in a very small specific area, with a tiny number of days when it is harvested. Marc will be hosting a special event at Frome's Silk Mill, with the centre piece these, Calçots, charred on a grill, peeled and served whole in their unique sweetness.
"It is not a Spanish or even a Catalan thing, explained Marc. " It is MY home town thing. Pronounced Calsods, they are like nothing else. You peel them after they are charred, and it is like a thin sweet onion. So it is our onion party !"
The season is like the vegetable, only tiny, and so if you want a chance to try this tiny trend dish, and get and education, find out more and follow their story HERE and book tickets for forthcoming events.