Competition Success for Frome Martial Arts Team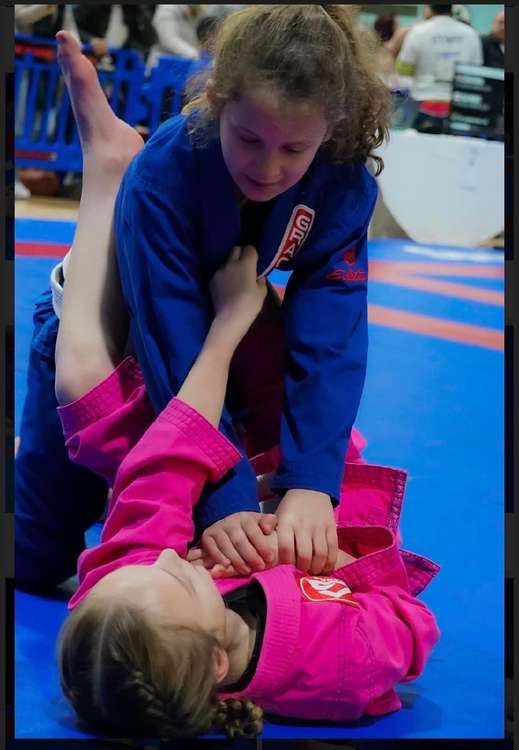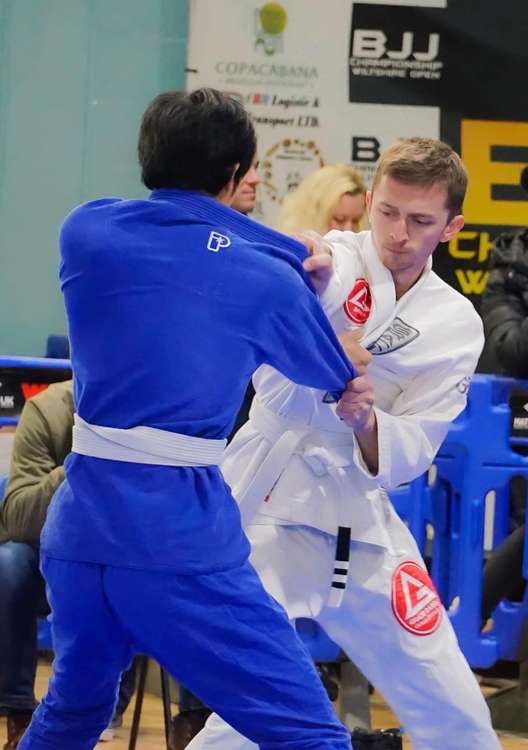 Gracie Barra Frome (GB Frome), a local Brazilian jiu-jitsu team, achieved their best competition performance at the inaugural Wiltshire Brazilian jiu-jitsu Championship Open. Children & adult competitors filled Grange Leisure Centre, Swindon, over the weekend and fought in hundreds of bouts for a place on the podium in the regional open.
Brazilian jiu-jitsu is a grappling form of martial arts that incorporates throws, takedowns, controlling pins & holds, along with submissions. Athletes are awarded points for advancing positional advantage over their opponents, or can win outright by preforming joint locks or chokeholds to achieve a submission.
GB Frome attended with a total of 14 students, representing juniors & adult members, along with a mix of female and male students. GB Frome's youngest competitor, Ralphie Harvey (8), earned bronze in his first ever competition outing, and is already looking forward too the next.
Teammates Taya Jones & Elsie Harvey came up against each other in their semi-final, with Taya going on to edge the win. She was unable to continue the momentum going into the final, and came away with silver. Elsie matched her brothers success with a bronze medal.
Final junior competitor was Cohen Burton who continued his winning record following previous success at the Bristol Open, and GB CompNET. He defeated his opponent 8-13 at the final, taking home another gold. Moving onto the adults, Robert Hughes & Paul Humpage were unable to progress pass the semi finals, both receiving Bronze medals. Josh Pulman breezed his way to the final with two submission finishes, but was unable to clinch a gold after breaking a rib in his final match, leaving him with a Silver medal. Finally we come to the gold rush with adult competitors Matt Harper, Tobias Morgan, Mike Rose, Ryan Allcott & Kimberley Lamb all taking top spot with impressive performances. The drama didn't end with the final medals being awarded, as the four teams battled it out to win the team trophies, with less than 2 points between 4th & 2nd place. Provisionally GB Frome ended the event in 4th place with 89 point, missing out on a team trophy. But following the close of the event, it was discovered that there was a technical issue meaning one of the GB Frome medals was not included in the final standings. Following the reallocation of the bronze, GB Frome gained an additional 3 points, and were retroactively moved unto 2nd place with 91points two days after the event. Coach Callum Swift, GB Frome head instructor, had this to say " This marks our best ever competition finish to date, and represents all the hard-work by our team. 2020/21 have not been easy years for us, as we spent most of the time closed as a result of the lockdown, only being able to train virtually at home. Our team is striving to be one of the best clubs in the country, and hope to take over 30 students to the British Open in June, with plans to replicate the same success we saw this weekend. Well done to the entire team." If you or you family would like to join our team , we offer all new students a 1 week free trial. Simply visit GracieBarraFrome.com for more information or call 01373 470 272