The best thing I have ever done : Heaps of praise for Frome RFC at the senior awards dinner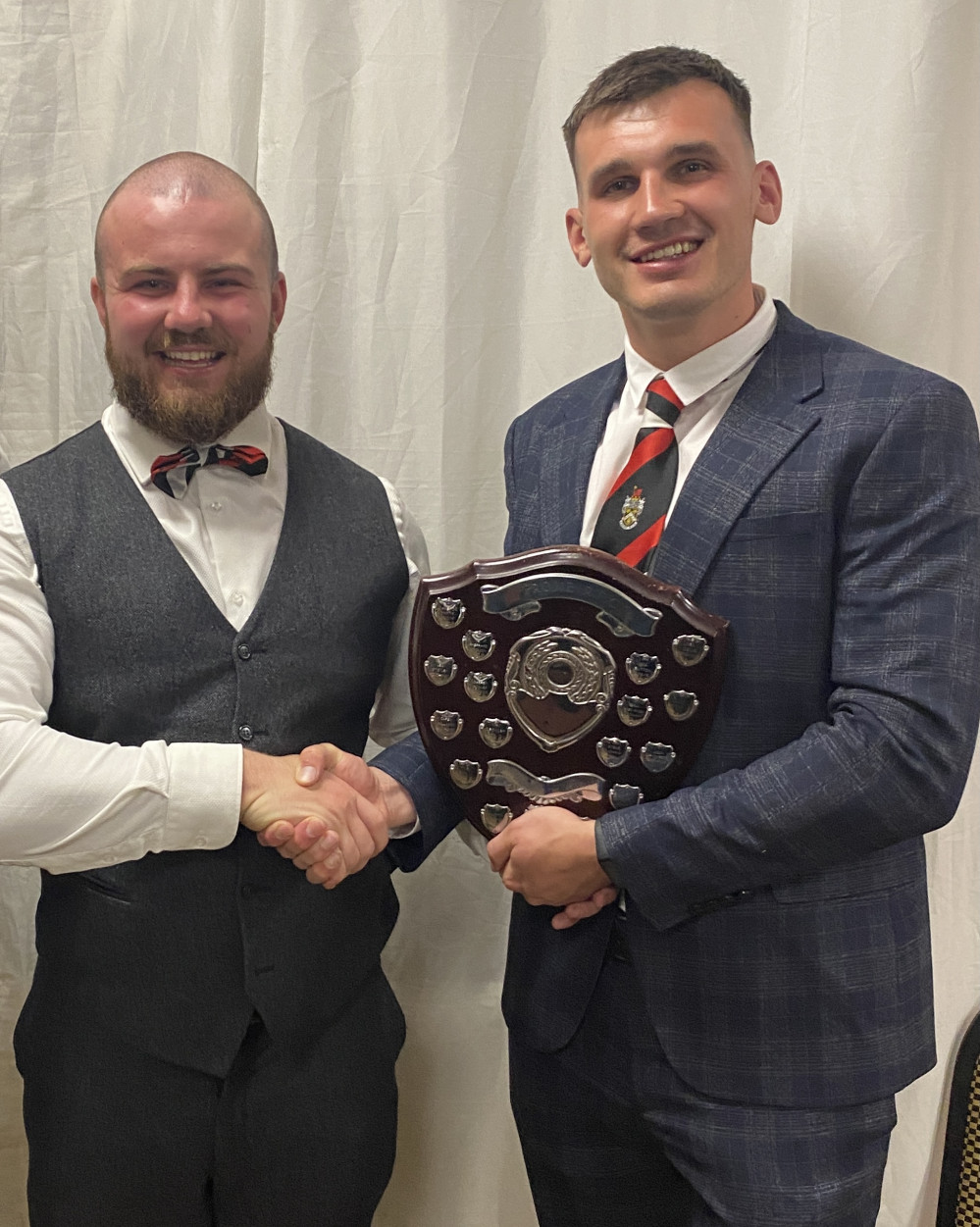 Pictured is 1st XV player of the year Geoff Taylor, with Club Captain Alex Mallon
The Frome RFC Seniors celebrated the end of the season with their annual Awards Dinner. With a packed-out room of Players, Backroom Staff and VP's, proceedings were led by Club Chairman, Shane Lewis who celebrated the successes of the season and thanked all those involved for their efforts.
1st XV Award Winners
Player of the Year: Geoff Taylor
Top Points Scorer: James Howard
Most Improved: Henry Bull
Players Player: Henry Bull
2nd XV Awards Winners
Player of the Year: Harry Burge
Top Points Scorer: Phil Clarke
Most Improved: Cory Plumridge
Players Player: Cory Plumridge
3rd XV Awards Winners
Players of the Year: Will Witt
Top Points Scorer: Toby Reilly
Most Improved: Bryan Loftus
Players Player: Peter White
Club Award Winners
Rookie of the Season: Jack Carter
Trainer of the year: Ali Fisher
Clubman of the Year: Jason Barraclough
It was also an opportunity to thank, and celebrate the backroom staff who will be stepping down over the summer.
Head Coach Toby Culff steps down after many years in the role, guiding the players to both success in and off the pitch, the club will forever be in his debt for all his hard work. He commented : " It's been the best job I've ever had, the best thing I've ever done. Thank you all for your patience, for your friendship, for the memories.
Don't ever give up. Don't ever, ever quit. I'll be watching from the side line. Here's to you all. Here's to the journey. Here's to the battle..."
Unit Coach and Player Elliott Bowler will be leaving the club over the summer and the Club would like to express their sincere thanks for all his efforts both on and off the field over the last few years, helping guide the team to a playoff and promotion has been a huge success.
Director of Rugby Cameron Hastie will also be stepping down from his role, although I'm sure will surely see him lace his boots on a Saturday still. He commented "It's been such a great journey over the last six years and I've loved it, but time to hand it over, thank you all that contributed towards my leaving gifts, I'm overwhelmed and very thankful.
"I'd like to thank to all at the club for their support and commitment, and thanks to Sonia Hastie for putting up with me and again her support…. a special thanks to the Osbornes, Trevor Osborne and Claire Osborne, Matt Warnock, Geoff Taylor and the great management and coaching staff."
2nd XV Captain David Abrahams also steps down from his role having guided the side to a league winning season and promotion to the highest level the 2nd XV have achieved.